Lassen: An Undiscovered National Park Gem
Lassen: An Undiscovered National Park Gem
Yellowstone gushing with geysers and populated by herds of bison.
Yosemite with waterfalls streaming over granite cliffs.
The Grand Canyon with its grand views across the Colorado Plateau.
These are the crown jewels of the National Park System in the Western United States.
I've been there, seen them.
But to me, lesser-known Lassen Volcanic National Park is an undiscovered national park gem.
Finding Lassen
Lassen Volcanic National Park is located in northeastern California, about 50 miles east of Redding and 45 miles east of Red Bluff, the largest towns nearest the park.
If you fly into the San Francisco Bay Area, hop in a rental car and drive to Yosemite National Park, it will take you about 4 hours without stops to get there.
You can reach Lassen in about the same amount of driving time.
With fabulous scenery and great day-hiking opportunities, Lassen remains my favorite national park.
So why not go there and forget about Yosemite altogether?
Lassen: Your Private National Park
Western U.S. national parks can be crowded from late spring into early fall. In a major park, like Yosemite, you may be aghast at how many "new best friends" are there with you.
But based on my experience on five trips to Lassen scattered over a 40 year period, there are times, like the end of the day, when it seems like it's your own private national park, where you are accompanied only by guests that you chose to invite for a visit.
Visitor use statistics published by the National Park Service explain why that is so.
Nearly 4 million people arrive in Yosemite annually while only about a tenth as many find their way to Lassen.
More importantly, during the peak May-September tourist season in 2013 Yosemite had over 2.5 million visits and 49% involved an overnight stay. During the same period, Lassen had only 366,660 visits and only 28% overnight stays.
The low visitation numbers at Lassen are nothing new; it's been the same since it was established as national park in 1916.
In their 430 page report, Little Gem of the Cascades: An Administrative History of Lassen Volcanic National Park, authors Diane L. Krahe and Theodore Catton of the University of Montana state that:
"By other measures the new national park [Lassen] was destined for relative obscurity: it was a small national park, one-seventh the size of Yosemite; it was California's fourth (most national parks outside of California were the only ones in their state); it lacked a nearby metropolis or a transcontinental railroad to build grand hotels [like the Old Faithful Inn or Glacier Park Lodge] and promote its attractiveness; and perhaps more importantly, apart from the eruptions of 1914 and 1915 it was not monumental.

"None of these factors lessened Lassen's appeal for park visitors. As visitation to Lassen remained relatively modest through the years, regional writers began describing the national park as an overlooked 'little gem' in the National Park system, a worthy tourist attraction that was off the beaten path, a 'friendly wilderness' for people who prized solitude or relaxation."
Click on the cover of Lassen Volcanic National Park: Off The Beaten Tourist Track to see photos that I'm sure will convince you to take my advice: Skip Yosemite, go to Lassen.
Lassen Volcanic National Park: Born of Fire
So how did a place lacking the grandeur of the Grand Canyon or the splendor of glacier-carved Yosemite become one of the California's cherished national parks?
If the Louisiana Purchase wouldn't have been bought from France by the United States, if Lewis & Clark hadn't tramped from Missouri to the Pacific and back again, and if Americans had been content to live no farther west than the fringes of the prairie, then Lassen Volcanic National Park probably wouldn't exist today.
But the big French-American real estate deal closed, Lewis and Clark made their epic journey, and in their footsteps followed a steady stream of people looking for a new and better life on their own land Way Out West.
And one of those people was Peter Lassen.
Peter Lassen began ranching near present day Red Bluff in 1844. As settlers traveling by wagon train poured into what would later become the states of California and Oregon, he developed an offshoot of the Oregon Trail which came to be known as the Lassen Trail, and some who entered California during the 1849 Gold Rush followed that route.
The Lassen Trail fell into disuse by 1850, and Peter Lassen's dream of a major settlement arising on land near his ranch was never realized. He was murdered in 1855 while prospecting in an area far to the north and east of the park which would be named after him 71 years later.
Lassen Peak is the southernmost volcanic mountain in the Cascade Range that extends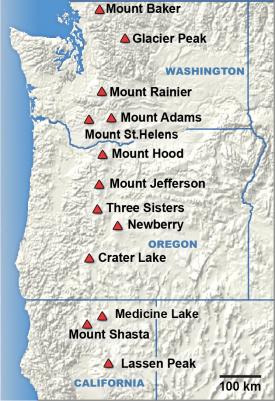 from the southern end of Canada's British Columbia province through Washington and Oregon and into California.
Lassen Volcanic National Park became the fifteenth national park created by Congress. It will celebrate its 100th anniversary in August of 2016.
But that centenary would not be happening if Lassen Peak had not erupted in 1914-15, long before its "sibling," Mount St. Helens, cataclysmically blew its top in 1980.
Krahe and Catton point out in their history of the park that:
"Beginning as early as the late nineteenth century, townspeople and ranchers from the surrounding counties visited the high country around Lassen Peak to enjoy camping and fishing and to seek relief from the summer heat in the valleys. Some people came for the mineral waters.

"But the area did not attract many tourists from afar, and in the early 1900s it was an unlikely candidate to be made a national park. Measured against most other existing national parks, Lassen's scenery was pleasing but not spectacular, its volcanic and geothermal features wonderful but not monumental."
In 1905, President Theodore "Teddy" Roosevelt created Lassen Peak Forest Reserve (later renamed Lassen National Forest). But bills introduced in Congress in 1912 and 1913 to turn the area into a national park failed to pass.
As Krahe and Catton note, Mother Nature found a way to change the mind of Congress:
"Then the mountain erupted [in 1914-15], capturing news headlines from across the United States, and the most significant obstacle to the park's establishment was suddenly blown away. The park's enabling act soon followed in 1916, coinciding with the final push to create the National Park Service. Lassen Volcanic National Park was literally born of fire."
Lay of the Land
A "drive by" visit is common in many national parks, including Yosemite, Kings Canyon and Sequoia to its south, Crater Lake in southern Oregon, and Mount Rainier near Seattle.
You could tour Lassen Volcanic National Park in day if you're content to drive the 30-mile through-the-park highway, stopping along the way for some short excursions.
But Lassen is a great day-hikers park, and its four sections offer varied landscapes and opportunities for outdoor activities like bird watching, boating, fishing, horseback riding and stargazing. And, of course, it's a terrific place to photograph the natural world.
Here are itineraries suggested by the National Park Service for visits to Lassen of one day, or two or more days. But I'd recommend that you consider staying at least a few nights or, better yet, a week or two.
Manzanita Lake: Lassen's "Golden Pond"
You can enter Lassen either by driving from Red Bluff on Highway 36 and then turning onto the South Park Road to get to the main Kohm Yah-mah-nee Visitor Center, where a gift shop and café are located, or by taking Highway 44 east from Redding and entering the park near Manzanita Lake.
My guess is that most day-trippers leave I-5 at Red Bluff, drive south-to-north through the park, exiting Lassen by Manzanita Lake and heading an hour or so west to stay overnight in Redding
But my preferred route—and the one I followed on a 6-day trip to Lassen last summer—begins with a stopover at Manzanita Lake and then continues south through the park.
On my first trip to Lassen in June of 1972, my wife and I stayed in a comfortable cabin at the small lodge next to the lake. It had a dining room, a bar, and a gas station. It was a great "base camp" for exploring areas close to the park road, and even for trekking up to the top of Lassen Peak.
But even though Lassen hadn't erupted in nearly 60 years, tremors in the earth below the mountain convinced the National Park Service that a huge rockslide might be triggered in the nearby Chaos Crags area. So in 1974 the lodge and cabins were torn down, and the adjacent campground closed to prevent injury or death to park visitors.
Good news, bad news.
Good news: Neither a rockslide nor volcanic eruption occurred.
Bad news: Instead of merely shuttering the lodge and cabins, they were "scraped" and never rebuilt.
Good news: Four years ago, 20 new "camping cabins" were erected in the woods near the campground and the camper store, giving visitors a lodging option at Manzanita Lake.
I stayed in Cabin #1 last July. The rear of the cabin had a small room with bunk beds on either side. The main room had a table, chairs and a couch, and there was a table and chair out on the front porch. It was clean, nicely decorated, and looked brand-new.
There is neither electricity nor running water in the cabins, but toilet facilities are nearby and a full bathroom and coin operated showers are located at the camper store, an easy walk from the cabins. You'll be provided with a battery operated lantern for indoor lighting, but I'd suggest that you bring a flashlight for those night-time trips to the "loo."
The bunk beds have mattresses, but the park concessionaire suggests that you bring an air mattress for greater comfort while sleeping. I rented one from the REI store near my home.
If it's cool late at night or early in the morning, just turn on the cabin's propane heater to warm up the place.
Each cabin has a fire ring for cooking, and a bear-proof box in which to store ice chests and food. The camper store has a variety of food stuffs and beverages, but I'd recommend shopping at one of the large supermarkets in Redding which have a much larger selection of food and drink.
The closest restaurants are in Shingletown, 19 miles away, but you can get simple fare at the camper store if you don't want to cook.
After dinner, take a stroll from you cabin down to the lake and watch the golden sunset.
Haven't got any camping gear? Not a problem. The camper store offers "Amenity Packages" that include everything you'll need for your "camping cabin" stay.
The $100 "Dinner Date Amenity Package" for two people includes:
Rib Eye Steaks — seasoned and foil wrapped
Potatoes — oiled and foil wrapped
Fresh Vegetables — seasoned and foil wrapped
French Rolls — split, buttered, and foil wrapped
S'mores Kit — chocolate, graham crackers, and marshmallows
And Butter, Sour Cream, & Condiments
Kayaks are available for rent, or if you have your own or a canoe, you can paddle it around the lake.
I only made a "one-night stand" at Manzanita Lake, but that left enough time for me to leisurely hike part way around the lake and check out the visitor center at the Loomis Museum the next morning before heading south through the park, taking a lunch break at Summit Lake, hiking a mile to and from Terrace Lake, and enjoying an ice cream treat at the café in the Kohm Yah-mah-nee Visitor Center at the southwest entrance to the park, before arriving at my next in-park lodging stop, Drakesbad Guest Ranch.
A Family Affair
Every summer for 50 years.
That's how long a large family group seated near me at dinner had been coming to Drakesbad Guest Ranch in the southeast corner of Lassen.
Believe it or not, they don't hold the consecutive-summer-stay record.
Not long before my visit, another family gathered at Drakesbad for their 70th summer in a row.
Other families, like first time Drakesbad guests Nicolas, Ariadne, Theo and Alex from San Jose, California that shared the two-unit "Annex" I stayed in one night, may be among those beginning their own tradition of annual summer trips to the ranch.
As with any business, repeat customers tell you that the management is doing something right. And more like everything right.
I'd known about Drakesbad for over 40 years. And I'd driven  into the area to day hike on past trips. But whenever I had thought about staying there, I had always phoned too late in the spring to get a room. Most guests probably rebook for the next year during their current stay or online.
Good news, bad news.
Good news: Last May I received an invitation from the concessionaire that operates Drakesbad to spend a few days at the ranch during the summer.
Bad news: They couldn't give me the same room for four nights running, so I was forced to "sleep around," changing rooms three times.
Good news: I was like Goldilocks trying out the beds of Papa Bear, Mama Bear and Baby Bear, experiencing most of the different types of accommodations available at the ranch.
A very few rooms have a full-bath and electricity. Most have a half-bath (sink and toilet) and electric lighting, but no electrical outlets.
Guests staying in the more rustic cabins have a half-bath, with a battery powered lantern and oil lamp for night-time lighting. I shared mine with a Yellow-bellied Marmot living under the porch.
Got a laptop, tablet computer or smartphone? You might as well leave them at home, because there is no Internet service and usually no cellphone service at Drakesbad. (If you need to recharge camera batteries or electronic devices, you can probably use a wall outlet in the main lodge building.)
Your lodging includes three meals a day, and each kid 12 and under accompanied by an adult stays and eats for free!
There is a buffet and a hot entrée at breakfast.
Lunch in the dining room is served buffet-style, but at dinner you can order a bag lunch to pick up at breakfast the next morning and take along with you on your day's outing from the ranch.
Dinner is a three course affair, and during my stay the entrees included lasagna (to die for) and roast chicken. There is always is a vegetarian option. The wine list offered over 25 choices of red, white and sparkling wines by the bottle, about half of which were available by the glass.
entrée
entrées included lasagna to die for and roast chicken. There is always a vegetarian option. The wine list offered a choice of over 25 red, white and sparkling wines by the bottle, and about half of those were available by the glass.
Guests have a reserved table each night in the dining room, but if the weather is warm, you can have your meal on the outside deck.
Wednesday is Western BBQ night, with plenty of grilled items and side dishes to enjoy at picnic tables near the main lodge building.
Unlike Manzanita Lake or many of Lassen's campgrounds, Drakesbad doesn't lie along the main park road. The partially paved, partially dirt road that winds 17.1 miles from the town of Chester dead ends at Drakesbad.
So the only people you'll encounter are the guests staying in the 19 rooms and cabins, a handful of day hikers, those making a short overnight stop while trekking the Pacific Coast Trail from Mexico to Canada, or "locals" or people lodging elsewhere in the area who were lucky enough to snag a table for dinner.
That means it's very, very quiet at Drakesbad, particularly during the day when most ranch guests are enjoying the great outdoors.
You can take short hikes, such as the one to aptly named Devil's Kitchen, in the Warner Valley where Drakesbad is located, or spend the day sightseeing along the park's main road, or go to one of the even more remote areas of the park such as Juniper Lake or Cinder Cone.
Drakesbad is a perfect place to be a kid, regardless of your age. And a perfect place for kids to learn that there's more to the world than the electronic games and toys that they spend all too much time messing about with back home in the city.
Several activities, such as nature crafts, archery and treasure hunts, are designed specifically with kids in mind. At night, everyone will enjoy sing-alongs and S'mores around a campfire, or stargazing under the Milky Way.
Horses are corralled right at the ranch so you can arrange to go on a wrangler-led trail ride.
(Despite the sign, you needn't worry about being in the cross-fire of an Earp-Clanton style shoot-out, not even a fake one staged by actors to entertain ranch guests.)
Drakesbad induces loafing.  If my trip had lasted one more day, I would have spent it just hanging out at the ranch.
In the main lodge's lounge you can relax and read a book, or play board and card games.
Or you can pretend that you are staying at a posh beach resort, and have a massage before or after spending the day lounging around the swimming pool.
Love to fish? Never been fishing? Drakesbad can set you up with a local fishing guide as it did for Nicolas and Theo, the father and older son from San Jose whom I met during my stay at the ranch.
Drakesbad Guest Ranch has been around for over 100 years. The Sifford family gave the place its name after buying the Warner Valley property in 1900 from the original owner, Edward R. Drake, who had come to area around 1875. They ran it for about 60 years. The park acquired the ranch in 1958.
My guess is that Drakesbad will be welcoming guests for another 100 years or more, many coming to their "home away from home" at Lassen year after year.
It's a unique place, unlike any other in which I've stayed at any other national park in the West.
You Can Go to "Hell"
It's called "Bumpass Hell," not "Bump-Ass Hell," so unless you are careless and fall ass-over-teakettle into a steaming, sulfurous vent or boiling lake, you won't lose your butt by taking this relatively easy for kids and adults of all ages, three-mile round-trip hike down into and back out of the park's most well-known and frequently visited geothermal area.
Named for prospector Kendall Vanhook Bumpass who discovered it in 1864, this little bit of "hell" is actually idyllic, if you disregard the "rotten egg smell" emanating from its hot-as-hell fumaroles. And a wide wooden boardwalk makes it unlikely that you'll fall into a "hot spot" and get fried alive.
Bumpass Hell is the "must-see" spot in Lassen, so you'll be hiking in and out of it along with both visitors staying overnight in the park and those doing a quick "drive-through."
To get a better understanding of the geology of the park and its geothermal activity before you take this hike, try to catch a late morning park ranger talk, "Inside of a Volcano,"  at Sulfur Works, just south of Bumpass Hell along the park road.
Drive past the Bumpass Hell parking lot to enjoy a pre-hike lunch with great views of Lassen Peak at a picnic table above the shores of Lake Helen.
Then you'll be well-fed and well prepared for your own "trip to Hell."
Along the way you'll likely see hillsides of blooming lupine and to the southwest, another prominent park feature, aptly named Brokeoff Mountain.
If you spend a fair amount of time down in Bumpass Hell, and hike in and out at a leisurely pace, taking time to enjoy the views up to Lassen Peak and across the park to the south and east, and if it's a warm day, you'll be ready for a post-hike ice cream cone at the café in the Kohm Yah-mah-nee Visitor Center just down the road.
A Quiet Walk in the Woods
I've been to Yosemite often enough to be able to find the odd trail where I can hike alone, even when Yosemite Valley is chock-a-block with park visitors.
But it's even easier to stroll in solitude in Lassen where there are many lightly traveled trails. You might see a handful of hikers during the course of a day hike, or none at all.
One hike I've done a few times begins just off of the main park road and leads two miles down to Terrace, Shadow and Cliff Lakes.
Since last summer I had to make it all of the way from Manzanita Lake to Drakesbad, at least a two hour drive without stops, I opted to turn back after reaching Terrace Lake. Still, I only saw a half-dozen or so people, mainly in a single group, letting me "claim sole ownership" of the trail during most of my hike.
After lunch my first full day at Drakesbad, I hiked up the Warner Valley with Ed Fiebiger who, with his wife Billie, ran the guest ranch for many years before taking over the café in the Southwest entrance Kohm Yah-mah-nee Visitor Center.
While we spent most of the time on the easy walk towards Devil's Kitchen, before getting to that geothermal area we went "mountain goating" up a steep hillside, searching for the pure water that rushes out of the ground just below the cliffs that cap the valley's edge. I can testify that we saw no other human being on that unmarked and sometimes hard-to-find rocky trail!
The next day my aching legs told me that I needed to find a hike that was scenic, but with far less elevation gain than my strenuous outing with Ed.
So I drove southeast from the ranch into Chester, picked up a nearly parallel road, and headed back to the northwest to Juniper Lake.
After a couple of hours I arrived at the lake about noon, grabbed the brown bag lunch the ranch kitchen had made for me, and sat down at a lakeside picnic table for a mid-day repast with a view across the lake to Mount Harkness.
A small group of people, who had probably pitched their tents in the campground on the other side of the lake, walked behind me, then disappeared.
I did not see another soul while hiking over to Horseshoe Lake and back, except for a few backpackers who were camping near that lake.
Another favorite hike of mine is the Paradise Meadow trail where on past trips I've seen abundant wildflowers. Alas, I would have had to add another day to my trip to fit in that hike, yet another day to hike to Kings Creek Falls, and a third day to drive out to Cinder Cone in the remote northeast corner of Lassen.
Camping Out
If you're a tent camper, backpacker, or own an RV, you can camp out in Lassen. A few campgrounds accept reservations, but most are first-come, first-served. However, I'm told that even on busy summer weekends you may be able to show up and not have trouble finding a spot in a least one of the campgrounds.
Beginning July 7, 2014, you can tent camp at Manzanita Lake even if you don't own a tent or other camping gear. Lassen park concessionaire, California Parks Company, says that:
"For $67/night added to the normal $18/night campsite fee, a tent and basic campground equipment will be set up and waiting on day of arrival and taken down on day of departure. The only restrictions are a two-night minimum stay and reservations made at least four days prior to arrival.

To arrange this service, first rent a campsite online (www.recreation.gov) in "A or C Loop" of Lassen Volcanic National Park's Manzanita Lake Campground. With a reserved campsite confirmation number, go to www.lassenrecreation.com to additionally purchase and schedule the RentMyTent package.

Upon arrival, a 17'x9' Adventure tent large enough to accommodate up to two adults and two children, two heavy-duty steel cots, two camper chairs and a lantern – all produced by the Coleman Company – will be set up and waiting at the reserved campsite. Campers need only bring sleeping bags or bedrolls and cook gear, which are also available for rent at www.lassenrecreation.com."
Staying in the backcountry requires a wilderness permit, available at either of the two park visitor centers, or online at the park's Website at least two weeks in advance.
When to Go
Although some hardy souls come to camp, snowshoe, or cross-country ski in the winter, most visitors won't start arriving until the park road opens, which will be between sometime in May and mid-July, depending on how much snow fell that year.
The Camping Cabins at Manzanita Lake and Drakesbad Guest Ranch won't open before late May or early June.
So it's no surprise that the park is busiest in July and August.
Although in the mountains rain and snow can fall during any month of the year and put a damper on your vacation, the weather in Lassen during September and early October should be mainly fair, with temperatures a bit cooler than during the height of summer.
Visitation in September is only about 60% of that in July and August, and it's down to less than 10% in October, increasing the odds that you'll be able to stay "indoors" inside of the park if you come during the post-Labor Day period.
A Gem of a Park, a Golden Pond, a Priceless Experience
Steve, one of my fellow "gym rats," has a cabin in the Warner Valley, along the road from Chester to Drakesbad. When I told him that Lassen was my favorite national park, and that I like it even more than Yosemite, he said "Lassen's scenic, but Yosemite's spectacular."
He's right, and his assessment is spot-on the with that set out in the Krahe and Catton history of Lassen.
But if that's what he really thinks, then why does have a cabin near Lassen, and not Yosemite?
That's because secretly Lassen is his favorite national park, too.
(You can hear Tales Told From The Road publisher, Dick Jordan, talk more Lassen Volcanic National Park during his recent guest appearance on the Amateur Traveler Podcast.)
Amateur Traveler Episode 422 – Travel to Lassen National Park, California
 ________________
If You Go…
(June 12, 2014 Update: While both Manzanita Lake Camping Cabins and Drakesbad Guest Ranch have few available rooms through mid-August of 2014, as summer wanes (and that means the last week of August) through early to mid-October, you'll have a good chance of booking a stay. Crowds, never very large in the park, will be even smaller, and the weather will probably still be quite good.)
You will need a car to visit Lassen Volcanic National Park. You can rent one at these cities and airports in California, Nevada and Oregon nearest to the park.
The closest airport is at Redding, served by United Airlines/Skywest UnitedExpress. Avis, Budget, and Hertz have cars for rent there.
Sacramento International Airport, about three hours drive south of Lassen, is served by ten airlines and major car rental agencies.
Reno-Tahoe International Airport to the east in Nevada, served by seven airlines and several rental car companies, is about the same driving time from the park.
San Francisco Bay Area airports to the southwest of Lassen, are four hours or more drive from the park.
(Click here for driving directions to the park.)
Although the park is open year-round, the highway through it is closed by snow during the winter and its re-opening date varies depending on the depth of the snowpack. (Click here for current road, trail, weather, and campground status.)
Be sure to read the "Things to Know Before You Come" section of the Lassen Volcanic National Park Website. While it is possible to hike to the summit of Mount Lassen—I did it back in 1972—work being done on the trail means that access to the peak will be restricted during 2014 as it was when I was at Lassen in July of 2013. August 2, 2015 update: Work on the Lassen peak trail is now completed and you can make the trek to the top any time that the trail is open.
Fees are charged for visiting the park except on select fee-free days.
Click here for information on booking campsites, cabins at Manzanita Lake, or lodging at Drakesbad Guest Ranch.
If you can't get a room or cabin at either in-park lodgings, you may be able to find accommodations nearby using this list posted on the Lassen Volcanic National Park Website.
For another glowing recommendation of Lassen, see this recent story by San Francisco Chronicle Outdoor Writer, Tom Stienstra.
The Pacific Crest Trail that runs 2,650 miles from the U.S.-Mexico to U.S.-Canada borders passes through Lassen, and some of the trail's "thru-hikers" take a rest break at Drakesbad to enjoy a restaurant meal, hot shower, or swim in the ranch swimming pool.
Useful guidebooks are Stienstra's Shasta & Lassen Camping and Hiking, and Tracy Salcedo-Chourre's Hiking Lassen Volcanic Park, 2nd., both of which are available from Amazon.com and may be available in the park's two visitor centers.
(Tales Told From The Road publisher, Dick Jordan, received complimentary stays at Manzanita Lake Camping Cabins and Drakesbad Guest Ranch courtesy of the park concessionaire, California Guest Services. Purchases made from Amazon.com through links on this page helps Tales Told From The Road continue to bring you a wide range of travel-related stories.)