As Thanksgiving approached, you've probably had two things on your mind: Turkey and tablets.
Tablet computers, that is.
(Mike Licht, NotionsCapital.com Flickr Photo)
In 2011, I published a buying guide to three tablets and e-readers: iPads, Nooks, and Kindles.
Here's my take on the current crop of those mobile devices, plus Samsung Galaxy tablets, the Google Nexus, and the Microsoft Surface.
Common Denominators
Size-Wise
Excluding e-readers and the Microsoft Surface, I place tablets into two size categories:
"Full-size" or "Large" (9''-10" longest dimension)
"Purse-size or "Medium" (7"-8" longest dimension)
By comparison, I'd classify most smartphones, like my iPhone 5, as "Pocket-size" or "Small." (Brandon Baunach Flickr Photo)
Heft and Weight-Wise
My "unscientific shopping experiment" involved picking up and holding each tablet (including the Microsoft Surface) and e-reader in my hands. As you'll discover if you replicate my go-to-the-store-hands-on "testing," you can't get a true sense of "handiness" because you have to hold the tablets while you're in a standing (vs. sitting) position, and each has a clunky anti-theft and power cable that adds weight to and limits the mobility of the device.
However, for the most part, I found each tablet and e-reader easy enough to use "hand-held," especially the "Purse-size" ones.
Screen-Wise
When Apple released the 2012 iPad (aka the "4th generation") it touted the sharpness of the device's "Retina display." And as an owner of one, I can testify that its screen makes viewing Websites, photos and movies an eye-catching experience.
In-store, I wasn't able to place each of these devices side-by-side in ideal lighting so I could compare how sharply each rendered the same Website. (I always use the Tales Told From The Road Website for such testing). Unfortunately, some devices on display in stores will only run the manufacturer's "Demo," and not let you go to a site like YouTube to see how videos appear during playback.
While I've been impressed by the clarity of content displayed all of the tablets I looked at, you should "eye-ball" them yourself, and also check the device's technical specifications for information on its screen resolution.
Naturally, my in-store shopping excursions didn't permit me to test the tablets under "extreme" lighting conditions, such as while sitting on the beach on a bright, sunny day, or in a darkened room or the semi-darkness of an airliner after the cabin lights have been turned down to make it easier for passengers to catch some shut-eye.
Keyboard-wise, Protection-wise
With the exception of the Microsoft Surface which comes with an attached physical keyboard somewhat like that of a standard laptop computer, tablets have "virtual" keyboards like those that display on smartphone screens.
I'm a two-fingered "hunt-and-peck" typist when using my iPad's virtual keyboard. But I can touch type much faster when I connect my iPad to one of the two Bluetooth keyboard cases that I own.
Even if you prefer to hold a tablet "naked" in your hands, I strongly recommend buying some kind of protective case or cover, if not a Bluetooth keyboard, to use when carrying your tablet away from home. (Although mine are designed for the iPad, you can buy them for many types of tablets.)
Fit and Finish-Wise
In the past, I felt that all other tablets were far less substantially built than, if not simply cheap knock-offs of, the iPad. But all of the ones I've checked out this year have a decent fit-and-finish, although Apple still leads the pack in that regard in my opinion.
Price-Wise
What you'd pay for a tablet depends on these factors:
The manufacturer
The size (bigger device, bigger price)
Amount of memory (more memory, pay more)
Cellular data network as well as WiFi connectivity (pay more)
Discounts available from manufacturer or retailer
During the holiday shopping season, particularly over the next few days surrounding Thanksgiving, you should be able to save at least a few dollars if you buy a tablet or e-reader.
Amazon.com is discounting some laptops and tablets, and well as a wide range of other products, during its "Black Friday" sales period.
Best Buy is offering discounts on tablets and e-readers from Thanksgiving Day through Saturday, November 30th.
Barnes & Noble is discounting some of its Nook e-readers and tablets during its post-Thanksgiving sale.
This year on "Black Friday," November 29th, Apple will be giving iPad buyers gift cards rather than discounts on as it did last year.
iPads: The "Gold Standard"
Apple set the standard for tablet computers when it released the first iPad in 2010. Since then, the other tablet manufactures have been playing catch-up.
The iPad remains a finely-made product, and because of Apple's iCloud file sharing service, and the ability for an iPad and iPhone to share copies of apps, it probably the best choice for those who own or intend to buy either an iPhone or a Mac desktop or laptop computer.
I recently reviewed Apple's brand-new iPad Air, its full-sized 9.7" display tablet model, and its smaller cousin, the iPad Mini with 7.9" Retina display.
The full-sized iPad Air—particularly if used with a separate Bluetooth keyboard case—could function as a laptop replacement for some travelers. Although we've yet to see a Microsoft Office suite of programs released for the iPad, Apple's equivalent iWork apps, Pages (word-processing), Numbers (spreadsheet), and Keynote (presentation) can read and edit documents created in those Microsoft programs.
Depending on the amount of storage and whether it can connect to the Internet over a cellular carrier's network as well as WiFi, the iPad Air is priced from $499 to $799, the 16GB iPad 2 from $399 to $529, the iPad Mini with Retina display from $399 to $699, and the original 16GB iPad Mini without the higher resolution Retina display goes for $299-$499. But Apple on "Black Friday," November 29th, Apple will give you a gift card worth $50-$75 if you purchase an iPad from it.
You can buy iPads online from Apple or at one of its retail stores, or from retailers such as Best Buy.
Older models of both the full-sized iPad and the iPad Mini are available through Amazon.com.
Samsung Galaxy
The Samsung Galaxy tablets appear most likely to give Apple's iPads the strongest run for a tablet buyer's money.
The Samsung Galaxy Note 10.1 – 2014 Edition is the largest of the tablets I checked out. It's slightly bigger than the iPad Air (a bit longer overall, with a screen dimension of 10.1" vs. 9.7"), and outweighs it by a tad at 1.2 lbs. to about 1.0 lbs.
The full retail price (from the manufacturer) of the Galaxy Note 10.1 – 2014 Edition runs from $549.99 (16GB) to $599.99 (32GB). You may be able to buy previous models of the Note 10.1 for less money.
Unlike the iPads, the Samsung Galaxy Note 10.1 only has a rear-facing camera, and doesn't come in a model that can use cellular carrier data networks.
There is also a smaller Galaxy Note 8.0 (8" display, 16GB) with a full retail price of $399.99, but generally available for $50 less. It has both front and rear cameras. You may or may not be able to find one that also works on the AT&T cellular network, although I located used ones on Amazon.com.
To add to its somewhat confusing tablet product lineup, Samsung offers a 10.1″ Galaxy Tab 3 (16 GB, $399 full retail, available for $299), plus the  smaller and lighter 7" Galaxy Tab 3 (8GB, 0.67 lbs., $199.99 full retail, available for $159) which seems clearly designed to compete with the comparably sized Apple iPad Mini.
Both the Note and Tab felt light and easy to hand-hold during my quick in-store tablet browsing session, and the Tales Told From The Road Website looked crisp on the devices' screens. But the WiFi connection available in the Best Buy store where I tried them out was sluggish, so YouTube videos loaded slowly and were "buffered."
You can still buy new or used older Galaxy Tab 2 models in both 10.1 and 7 inch sizes.
Both the Note and Tab utilize Google's Android operating system, so you'll download apps for them from Google's app store, Google Play.
Google Nexus
Not content to simply license manufacturers like Samsung to produce tablets that run the Google Android operating system, Google offers its own tablet, the Nexus, which comes in 7" and 10" screen sizes.
You can buy a Nexus 7 with 16GB or 32GB of storage in a WiFi-only model or one that connects to the Internet over cellular data networks, too. Full retail prices run from $299 to $349. It weighs about the same as the iPad Mini and Samsung Galaxy Tab 3, and has front and rear-facing cameras.
The Nexus 10 comes in 16GB or 32GB WiFi-only models priced at full retail from $399 to $499.
I liked the feel of the Nexus 7 in my hand, but unfortunately, I was limited to watching the "Demo" that runs on it in retail stores, and wasn't able to connect to the Internet to view Websites or YouTube videos.
You can purchase a Nexus directly from Google, through Amazon.com, or at retailers like Best Buy.
Nook Lives ! (At Least for Now)
Mark Twain is often misquoted as having said "Reports of my death have been greatly exaggerated."
The same might be said about reports from last summer that suggested that the Barnes & Noble Nook was about to die due to lagging sales. And this week's story in The New York Times continues to cast a shadow over the long-term viability of the Nook product line.
But based on my recent visit to a local outlet of that chain bookseller, I can tell you that the Nook isn't dead yet.
Nooks as "Computers"
The Nook HD (8GB and 16GB) and HD+ (16GB AND 32 GB) both allow your to send and receive e-mail and access the Internet to view Websites using the Google Chrome browser. They run Google's Android operating system so you can use the 700,000+ apps available from Google Play. YouTube, Google Maps, and Gmail are supported. (Click here for a full list of features and specifications.)
The "Nook" is Now a Kindle E-Book Reader
The Barnes & Noble devices I covered in my tablet buying guide in December of 2011 have been replaced by newer models.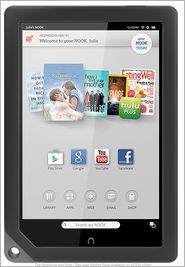 Since the 7" Nook HD and 9" Nook HD+ can use Android apps downloaded from Google Play, you can use them to read Kindle e-books with the Android version of the free Kindle e-reader app. That means that the owners of either of those two Nook devices can purchase and read not only Nook e-books from Barnes & Noble, but also Kindle e-books from Amazon.com.
Priced from $129-$179, the HD and HD+ are less expensive than the iPad or iPad Mini, on which one can read both Nook and Kindle e-books, plus iBooks purchased by the Apple iTunes Bookstore.
So either  the Nook HD or HD+ might be a good choice for someone who wants to "pack" a lot of reading material for a trip, without filling up the suitcase or carry-on bag with printed books.
This comparison table can help you decide which Nook device to buy.
Kindle Tablets
Amazon.com now offers three Kindle tablets in addition to its Kindle e-readers.
The Kindle Fire HDX 8.9 is slightly smaller (8.9" screen) than both the Samsung Galaxy Note 10.1 and the iPad Air, and weights a bit less than either at about 13 ounces.
The WiFi-only models come with either 16GB ($379), 32GB ($429) or 64GB ($479)of storage; ones that connect to the Internet over either the AT&T or the Verizon cellular network cost another $100. Like the iPad Air, the Fire HDX has front and rear facing cameras.
Last year's model costs less, but has a smaller 7" screen with lower resolution than the current model, and no rear facing camera.
The less expensive (starting at $229) Kindle Fire HD 8.9 (it's missing the "X") is similar to the HDX, but lacks a rear facing camera. You can buy last year's 7" model for as little as $139.
This table compares the four Kindle Fire models.
Unlike the Nook HD and HD+ and the Samsung tablets, Kindle Fire tablets don't run the standard Google Android operating system, so you can't access Google Play to download apps for a Fire. (Here's a "work around" to that limitation which you might try.) Instead, you'll have to use apps specifically designed for the Fire devices.
Kindle Fires can only read Kindle e-books.
The Microsoft Surface
Microsoft's Surface is a laptop-tablet hybrid.
Like a laptop, its bottom half is a keyboard and the top half is the display screen.
But you can discontent the screen half from the keyboard half and, because it is a touch-screen, use it like a tablet.
It sounds like the best of both worlds, and David Pogue, former technology reviewer for The New York Times, thought it probably belongs in a separate category of its own.
There are three models available: The Surface, The Surface 2, and the Surface Pro, priced anywhere from $349-$999.99, depending on memory and where you buy them. (Amazon.com sells several models/configurations.) You can also buy them at retailers such as Best Buy, or directly from Microsoft online or at one of its retails stores.
With a screen size of 10.6" and an overall width of 10.8", the Surface is just a little larger than the Samsung Galaxy Note 10.1 and the iPad Air. It weighs 1.5 to 2.0 pounds (with the keyboard attached).
The Surface 2 and Surface Pro have a front facing Webcam and a USB port. The Surface has neither.
The Surface and Surface 2 run the Windows RT operating system. The Surface Pro uses Windows 8.1 Pro.
Typing on the keyboard on the Surface and Surface 2 was to me like drumming my fingers on the Rubbermaid dish board in my kitchen. The Surface Pro keyboard has keys much like those on my iMac's wireless keyboard, easy to type on, and quite responsive.
The Surface Pro can run the full Microsoft Office software suite of programs including Word, Excel, and Power Point.
So the Surface may be a good option for those who want to stick with Microsoft products and software.
E-Readers
If you will be content owning a mobile device that isn't a full-blown tablet computer, but that will allow you to read books, magazines, and newspapers, an "e-reader" may be all that you need.
Nook E-Readers
Barnes & Noble offers the $79 Nook Simple Touch, the $99 Nook Simple Touch GlowLight, and the $119 Nook GlowLight.
Here's a side-by-side comparison of the low and high end models.
Kindle E-Readers
Amazon.com sells four Kindle e-readers ranging in price from $69-$239.
On the high end of that price range, the Kindle DX is about the size of an iPad Air or Samsung Galaxy Note 10.1. It can hold up to 3,500 books and read them out loud. It connects to the Internet via a free 3G service.
On the low end is the $69, the 6" Kindle which can store over 1,000 books which you'll download to the device over a WiFi connection.
In between are two models of the Kindle Paperwhite, each of which is about the same size as the "6" Kindle, holds over 1,000 books, costs $119-$189, connects via WiFi or 3G, and has a better screen resolution that either the DX or the $69 Kindle.
This table compares them.
Decisions, Decisions
Before plunking down your cold, hard cash (or using a credit card) to purchase a tablet or e-reader, take time to read our "What to Know Before Buying a Tablet or E-Reader" post.
(Tales Told From The Road is an affiliate vendor of Amazon.com and Barnes & Noble and will receive a small commission from purchases made through links on such page.)
Back to Front Page Stories Explore This Blog
Copyright secured by Digiprove © 2013 Dick Jordan